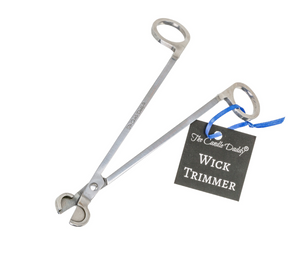 Keeping your candle correctly trimmed allows your candle to burn evenly and cleaner avoiding annoying soot & smoke build up on walls and ceiling.
Built in debris removal tray on trimmer allows easy removal of the clipped wick
Don't allow flame ups or a long wick to ruin your candle experience. Keep your wick cut evenly and precisely and neatly to 1/4"" for the safest burn.
Our wick trimmer reaches 7"" into any jar or pillar candle- nice deep reach for any candle. Trim before lighting & between burns. Never leave candle unattended.