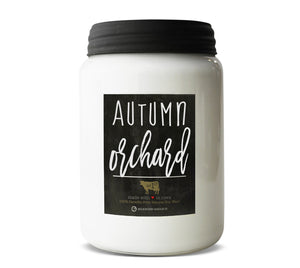 Take a leisurely walk amidst rows of apple trees on a crisp autumn day, where the scent of ripe apples intermingles with the aroma of a nearby bonfire, and the crunch of fallen leaves is music to your ears.
Delicious notes of ripe apples are kissed with a touch of mandarin and mixed with cinnamon and clove then finish with the deep smoky aroma of vetiver, sandalwood, and Tonka.
The farmhouse jar, also known as the apothecary jar, offers 26 ounces of pure soy and beeswax, lead free wick, no artificial dyes, and a burn time of 150 plus hours. The farmhouse line is inspired by the rural life we love. A chalkboard style label is paired with fragrances that evoke memories of a simpler time.
Soy wax infused with beeswax - 100% paraffin-free
Made in the USA